Creating a strong and specific Buyer Persona is the first step toward Effective Digital Marketing. Let TDM assist you in creating your perfect buyer persona!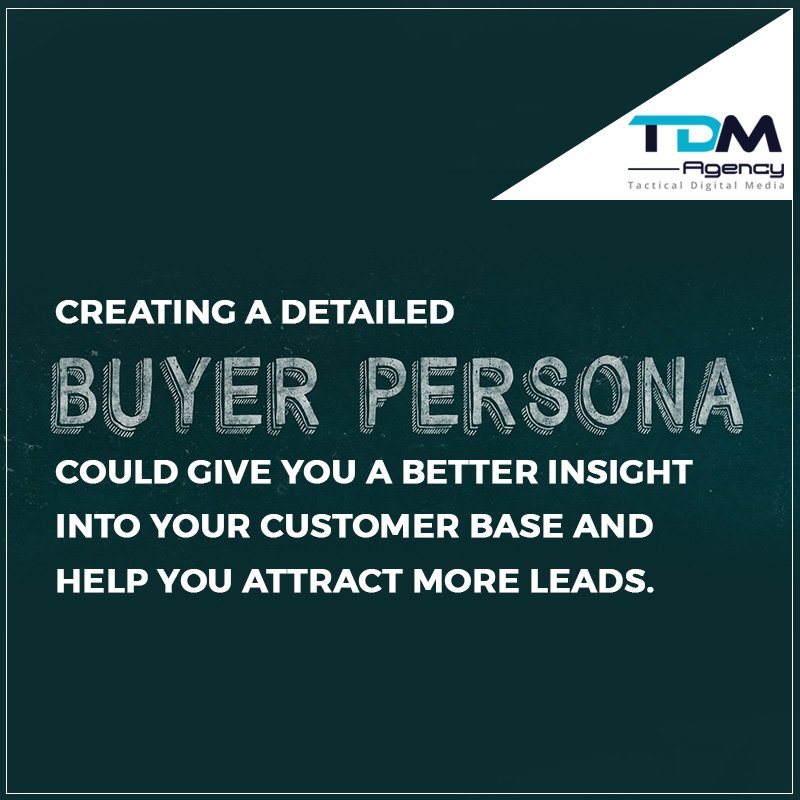 Buyer Persona – Better Insight – Attract More Leads
In order for businesses to survive and thrive in the ultra-competitive landscape of online marketing, they need to understand the buying behaviours of their customers. Here are 4 ways by which you can define your buyer's persona to ensure that the right people are being targeted for your business:
Start Wide:
You should start by attracting as many people as possible and then classifying your contacts. It is important that you remember to segment more than one target market. For instance, if you're an eCommerce business selling women's luxury items, then you can have two major groups – one belonging to women purchasing items for themselves and the second one belonging to men purchasing the luxury items as gifts for their significant others.
Drill Down:
There is plenty of information that can be used to define and segment buyers but a good way to start is by looking at the following things:
Location – Where do people live?
Excluding Location – Where do they not live?
Age – What age group do they fall into?
Gender – What is their gender?
Interests – What are their interests?
Income Level – Which income group do they belong to?
Relationship Status – What is their relationship status?
Favourite Websites – What are their favourite websites?
Buying Motivation – What are their reasons for buying your product/service?
Buying Concerns – The issues/problems they may run into while buying your product or service?
Research:
If your business is already established, you can use Google Analytics and Facebook insights to find out people who are currently using your product/service as well as those who are interested in your product/service. Alternatively, you can request your current users/customers to fill in a survey form (which would provide you with all the information you need) or do a phone survey. In case you are new to the world of online marketing, you can take a look at your competitors' websites to get meaningful insights.
Bring it All:
Once your key buying persona's have been created, you need to come up with a marketing strategy to reach each one of them. The more targeted are your campaigns, (the more specific is the reach), the higher is the engagement and return on investment.